Background
Eckhart Corp. is a fully integrated nutritional supplement contract manufacturing organization founded in 1989 with headquarters in Novato, California (USA). We are a leading global developer, manufacturer and marketer of vitamins and nutritional supplements. With a reputation for service, quality and value, we are dedicated to the innovation of nutraceuticals and food supplements and are recognized as a quality CMO of solid oral dosage forms.

Eckhart has a highly qualified and experienced team of specialists with a strong scientific capability, regulatory expertise and technical know-how. Core activities include product formulation, custom manufacturing, regulatory affairs assistance, and marketing support. We provide guidance for proprietary formulations, technical questions as well as label and package design matters.

Two manufacturing facilities employ professional Chemists, Engineers, and Pharmacists experienced in production, quality control, quality assurance, pilot scale production, stability trials and other technical services.

The combination of state-of-the-art production facilities, technical expertise, and expert regulatory support are key benefits for our global customer base.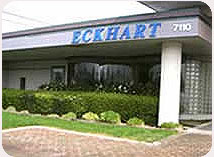 Eckhart Corp., Novato, CA